Qute Messenger
Description
Qute Messenger is a free app that lets you back up your contacts and send texts/voice messages to any friend anywhere in the world for free.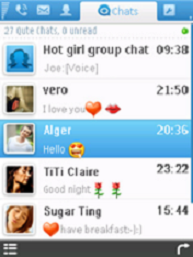 ★ Free voice, Free text, Free international chat across over 200 countries!
★ Supports almost any kind of your phones including JAVA phones, 1st in the world.
★ You can Qchat with a group of friends at the same time, using rich and spicy emoticons.
★ Making new friends/Quters has become so easy through Qute.
★ Back up contacts online forever and never worry about losing them! (soon for JAVA phone).
What's new
1. Find other Quters around the world and start making friends!
2. Invite ANYONE in your phone book to a fun group Qchat!
3. Check out our enhanced User Picture Display and Emoticons!
For more information, please go to the official site of Qute Messenger:
http://qutechat.com
...Read more